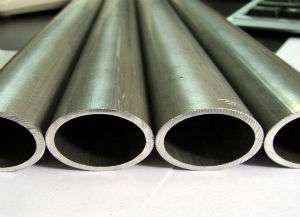 We are acknowledged as exporters and suppliers of Monel K500 Pipes and Monel  K500 Tubes available in a variety or materials, finishes and grades in metric and inch sizes. These monel pipes and tubes are immensely used in the marine industries. These Monel 400 pipes are widely used in various industries across the globe.
Monel K500 Seamless Pipes & tubes from Svamitva Steel is typically tough to machine and will work harden. Monel K500 Welded Pipes has excellent results, which can be obtained if you make the correct choices for tooling and machining.
Monel K500 Pipes combines the excellent corrosion resistance, durability & reliability characteristic of Monel Pipes with the added advantages of greater strength and hardness.
Applications of K500 Monel are found in Propeller and pump shafts, pumps and valves used in the manufacture of perchloroethylene and in chlorinated plastics. MONEL K500 are of high strength and thus used in pump shafts, impellers, propeller shafts, valve components for ships and offshore drilling towers, bolting, oil well drilling and instruments for oil and gas production. It is well suited for centrifugal pumps in the marine industry due to its high strength and low corrosion rates in high-velocity seawater.
We Pack Monel k500 pipes and Tubes Properly And Carefully To Ensure That There Is No Damage To Monel k500 pipes and Tubes During The Transit.
Huge Stock Of Monel k500 pipes and Tubes.
Large Production Capacity Of Monel k500 pipes and Tubes
Highest Quality Monel k500 pipes and Tubes At Lowest Price
We offer a wide range of monel K500 Pipes & Tubes that are made of qualitative raw material procured from reliable vendors.
Product Specifications
| Specifications | Properties |
| --- | --- |
| Seamless Pipes & Tubes | ASTM / ASME SB 161 / B 163 |
| Welded Pipes & Tubes | ASTM / ASME SB 725 / B730 |
| Grade | Monel K500 (UNS N05500) , 2.4375 |
| Size | 4 to 219mm W. T.: 0.5 to 20mm |
| Length | Within 13500mm & Required Length |
| Type | Seamless / ERW / Welded / Fabricated / LSAW Pipes |
| Form | Round, Square, Rectangular, Hydraulic Etc. |
Chemical Properties
| Element | K500 |
| --- | --- |
| Ni | 63.00 Min |
| C | 0.25 Max |
| Mn | 1.5 Max |
| S | 0.010 Max |
| Si | 0.5 Max |
| Cu | 27.00 - 33.00 |
| Fe | 2.0 Max |
| Al | 3.15 Max |
| Ti | 0.85 Max |
Mechanical Properties
| Element | K500 |
| --- | --- |
| Density | 8.44 g/cm3 |
| Tensile Strength | Psi-1,60,000 , MPa-1100 |
| Elongation | 20% |
Applications
Petrochemical
Water treatment industries
Salt Water transformation
Chemical factories
Marine service
Features 
Good strength
Hardness
Durability
High Utility
High quality